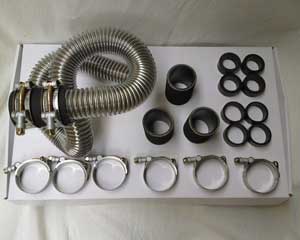 Copperflex Radiator Hose
Universal fit. Chrome finish and flexible so you can make it copy any rubber hose or make your own custom fitting hose. Made from Copper with a Chrome finish.
One kit contains a metre of hose ( just over 3 feet ) enough to do top and bottom hose and the following fittings, 4 – 45 mm or 1 3/4 rubber fittings, 4 – 40 mm or 1 1/2 rubber reducers, 4 – 30 mm or 1 1/4 reducers and 8 of the German Style stainless steel wide hose clamps and fitting instructions.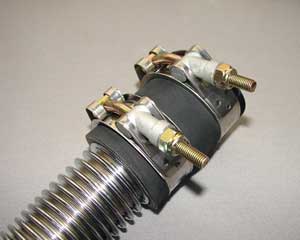 German Style Stainless Steel Clamps.
Copperflex is easy to fit and can be made to adapt and add in fittings like our Bottom Radiator Hose drain fitting Coolant filter fittings (also available) or even Electric Water pumps.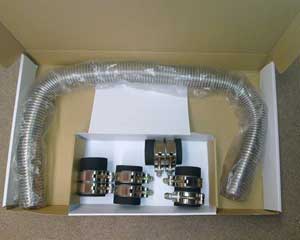 Boxed Packaged Kit.
50 mm ( 2 Inch ) rubber adapters now available for vehicles with the larger diameter water pumps.
On the Davies Craig Web site you can see an installation of Copperflex using an electric water pump. Click here to view. This shows how Copperflex can be made to work on many different vehicles.
Trade enquiries invited to bulk buy Copperflex welcome.